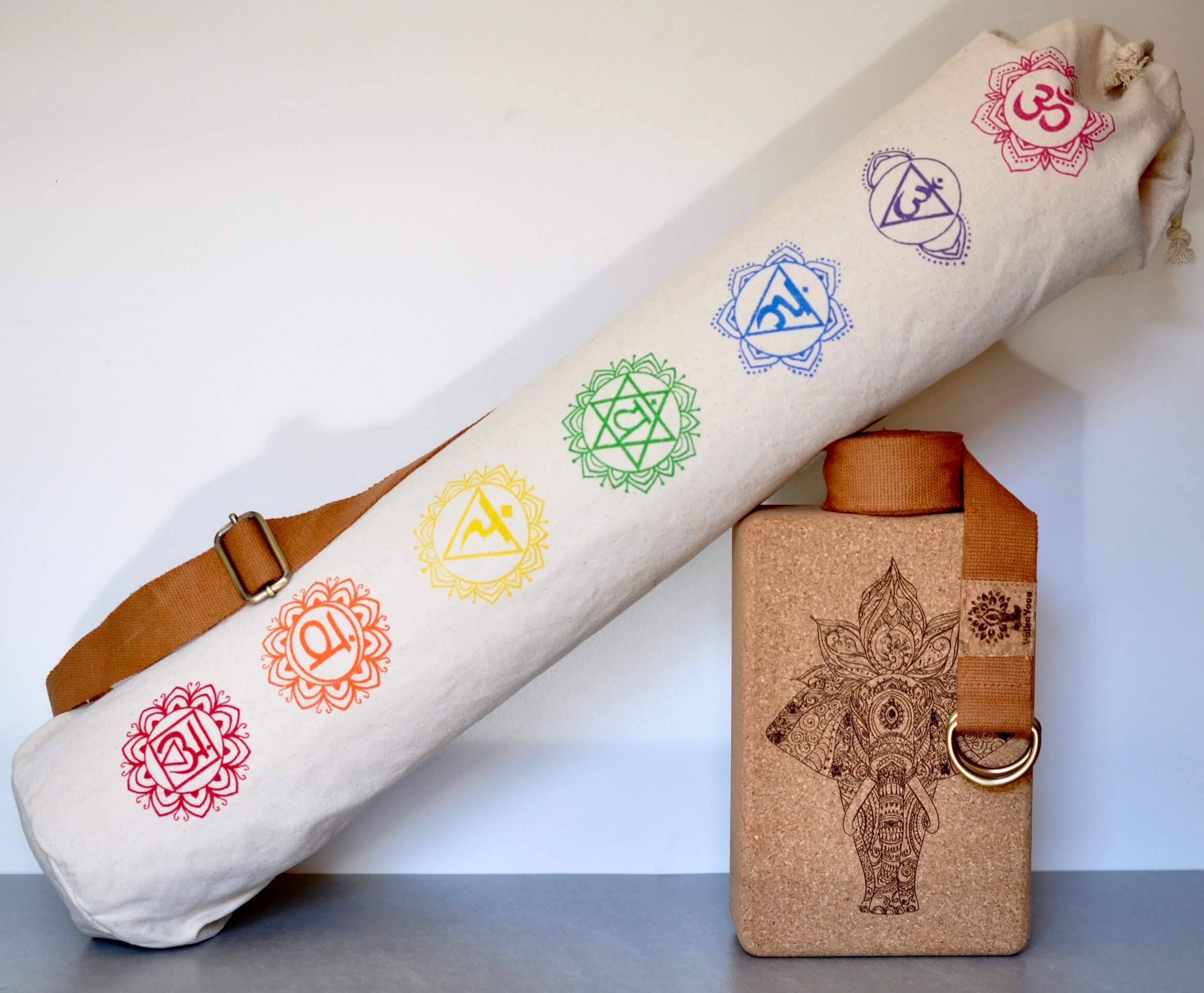 The Yoga Accessories I bundle consists of a cork yoga block, yoga mat bag and an organic cotton yoga strap. It's the perfect gift for a yogi who already has an eco friendly yoga mat.

The premium cork yoga blocks are made from 100% natural Portuguese cork. And they're available in two of the most popular sizes - 3x6x9 inches and 4x6x9 inches. The beautiful fine grain cork is lighter than the coarse grain cork typically used in other yoga blocks. The yoga blocks feature an easy to grip, non-slip surface and are specially designed for supporting back bends and select standing and sitting poses.
The yoga mat bag features our signature Chakra print and a classic design with an adjustable drawstring opening for convenience and portability. The 100% organic cotton canvas is thick and durable and stitching is reinforced. This yoga mat bag will easily last you a lifetime. The bag has a generous length and a width that will perfectly hold most yoga mats.
Just like our yoga mat bags, we use 100% organic cotton to make the yoga straps. We use a natural dye on the yoga strap to produce the deep saffron colour unique to the brand. Moreover, we use special webbing techniques to produce a yoga strap that feels soft on the skin yet is durable enough to last the most intense yoga sessions.
The Yoga Accessories I Bundle consists of -

A yoga block of your choice

An organic cotton yoga mat bag

An organic cotton yoga strap
At Valka Yoga, our main focus is customer satisfaction. That is why we offer a 30 day customer guarantee. If your product, for some reason, has any issues, we will send you a replacement or sort out a refund. No questions asked. Please get in touch with us at namaste@valkayogashop.com if you have any questions or concerns regarding your product!
Save $30
On Yoga On Demand
Get a complimentary one month membership to online yoga and meditation classes via our partnership with Yoga Online. And save an additional 15% when signing up to an annual plan.