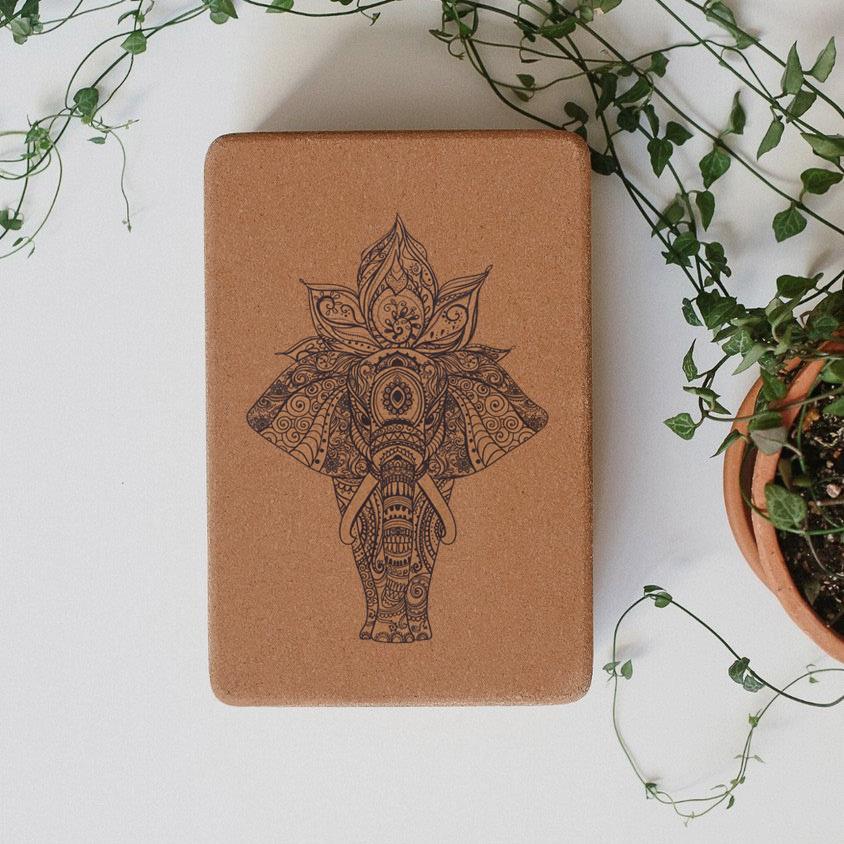 Yoga blocks can be boring. So we went and engraved our signature Elephant Mandala onto a solid block made of 100% organic cork. The result is a yoga block that is as inspiring to look at as it is empowering to practice with. Whether it is for home or the yoga studio, these blocks will just look spectacular and encourage a regular and supportive practice.
The premium cork yoga blocks are made from 100% natural Portuguese cork. That's it. The beautiful fine grain cork is lighter than the coarse grain cork typically used in other yoga blocks. The lighter grain cork also provides a bit more cushioning compared to a typical coarse grain cork or wooden yoga block. Our yoga blocks feature an easy to grip, non-slip surface and are specially designed for supporting back bends, standing and sitting poses.
Sold individually, although we recommend buying a pair!
.: Rectangular yoga block in a portable 7.5 x 15 x 22.5cm size
.: Weight: 750 grams
.: Signature Elephant Mandala engraving
.: Easy-to-grip, non-slip surface
.: Comfortably contoured edges with sturdy construction
.: Renewable cork construction is stable, long lasting and comfortable
.: Natural texture provides traction
.: Zero plastic, PVCs and harmful chemicals
.: 100% organic Portuguese cork
.: 100% vegan product
At Valka Yoga, our main focus is customer satisfaction. That is why we offer a 30 day customer guarantee. If your product, for some reason, has any issues, we will send you a replacement or sort out a refund. No questions asked. Please get in touch with us at namaste@valkayogashop.com if you have any questions or concerns regarding your product!
Lightly spray and wipe down with yoga mat or natural cleaner as and when needed.
Save $30
On Yoga On Demand
Get a complimentary one month membership to online yoga and meditation classes via our partnership with Yoga Online. And save an additional 15% when signing up to an annual plan.